---
The Best House Plans Money Can Buy
Our Story
---
Serving Kansas City, Missouri, Kansas City, Kansas, Springfield, Missouri, Branson, Missouri, the surrounding Ozark - Midwest region, and Northwest Arkansas, we seek to provide the best set of house plans money can buy. We specialize first of all by listening. We listen to your ideas, your goals, and the "heart" behind your vision. We understand that your home is more than just a set of plans - it's a reflection of you, your family, your tastes, your passions and your style.
After getting all your ideas put on paper and after hours of asking and answering lots of questions we craft the perfect set of blueprints to reflect every detail of your dream, and polish them to perfection. We listen to your contractor, the carpenter, and the tile guy - and we listen carefully for those "between the lines" details that can complicate even the most exciting project. With 21 years of "blown-away" clients in the archives, we know how to capture your every idea. Our commitment is to walk with you through the entire process and our preference is to include the builder as a team player during the design phase to make the process as smooth and flawless as possible. When we hand you your finalized set of house plans, we hope that you will not only be 100% satisfied with the final product, but you will realize that your dreams are soon going to become a present reality.
---
---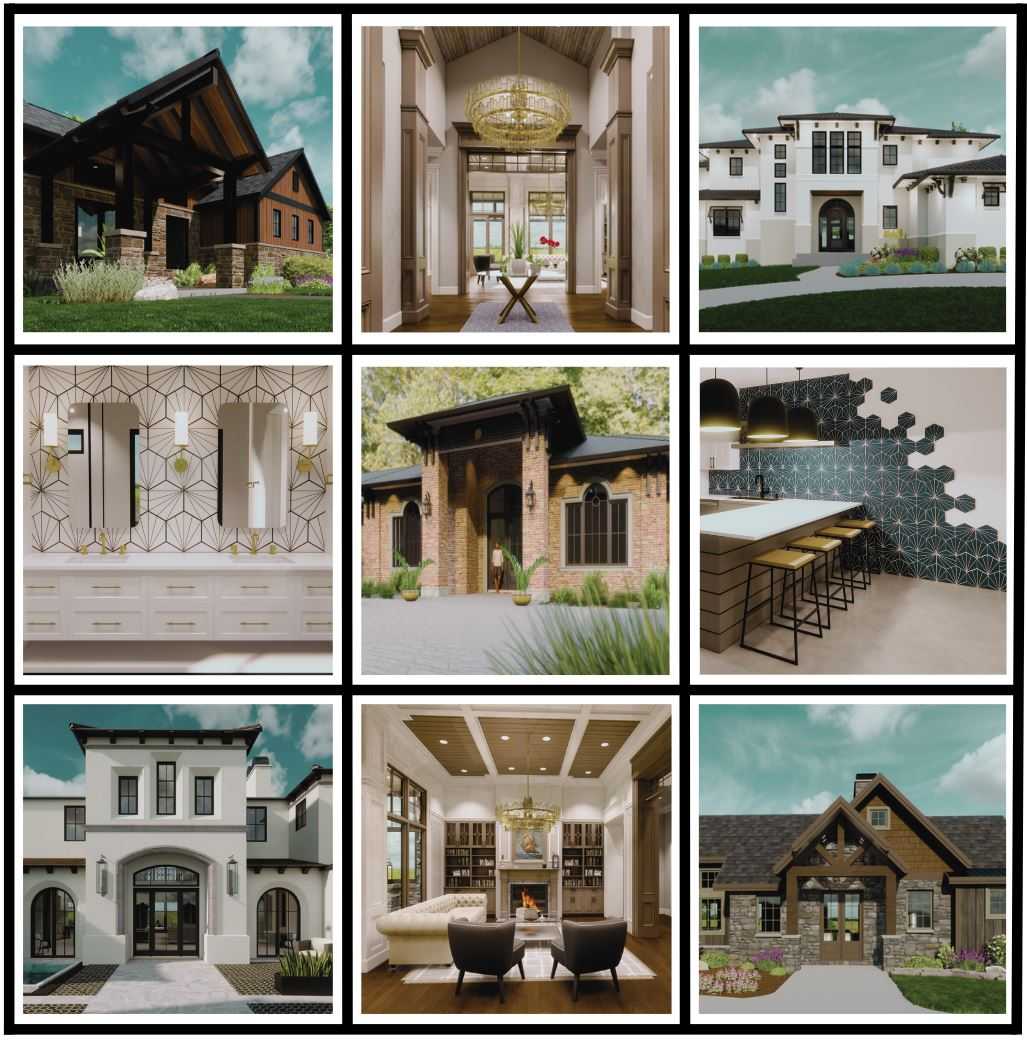 ---
---
---
We would like to think that we do more than design house plans here in the Springfield, Missouri - Ozark region. We have a long history of establishing exquisite custom home blueprints starting with the simple floor plans all the way to custom 3D design. Your home plans will be done right with our firm. Years ago, we started out drawing every set of plans by hand, then came CADD drafting, and today we use the latest technology for photo-realistic renderings money can buy.
J.L.THOMPSON DESIGN, reflects a rich design history that began over 30 years ago by Steve Busch of Busch Design Group. Steve Busch was one of the most accomplished home designers in America, and is renowned for actually creating the European home style known as "Country-French," in which he integrated the "Tudor, English, Cottage, and French" European home styles into historical masterpieces.
Upon joining Steve in 1997, Jason learned first-hand the intricacies and details that make these unique house plans come alive. In 2005 Jason was offered a partnership in the firm and became a senior designer of the new Busch-Thompson Design Group.
Steve passed away in 2007. We honor the traditions he established in design excellence. After his passing, J.L. Thompson Design Group was formed to continue this rich design history that we feel privileged and obligated to pass on to the next generation. The unique look of the country french design is often imitated, but never duplicated. We recognize that imitation is the highest form of flattery.
Currently, we design a myriad of design styles and love to explore cutting edge design while preserving traditional elements when applicable. In 2018 J.L. Thompson Design Group expanded the design team with Noah Fry. The two are working hard on getting clients a set of home plans that perfectly captures their dreams and vision. We love what we get to do and feel so privileged to work with some of the best people in Branson, Missouri, Springfield, Missouri, and neighboring cities.